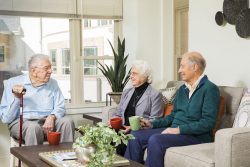 Stay active, stay independent.
Stay with friends at Crescent Crossing.
The thoughtfully-designed suites of Crescent Crossing include a living room with kitchenette, dining space, bedroom and bathroom with laundry facilities and a large, walk-in closet. They feature all the conveniences of home without the stress of home ownership with housekeeping and dining services included.
An innovative indoor walkway connects residents to each other and all Bethany Village amenities like the fitness center, casual and fine dining and entertainment/special event rooms. Inclement weather will never stop you from meeting with friends and making new memories at Crescent Crossing.
Our new community offers residents the opportunity to remain independent yet still have access to impeccable care – however and whenever you need it. You can have peace of mind knowing a dedicated Bethany Village nurse is on site, 24 hours a day, 7 days a week.
Helpful Facts about Assisted Living
Click on the printable PDFs below.
Enjoy life to the fullest!
Open Now
From the moment you join the Bethany Village community, you will be surrounded by the resources you need to enjoy life. Even as your needs change, your team of expert caregivers will adapt to ensure you can still call Bethany home. From independent living villas, cottages, and apartments to skilled nursing rooms and a newly re-imagined memory care unit, Bethany Village is home to over 700 permanent residents. Over 800 patients annually receive short term rehabilitation care at the Bethany Rehabilitation Center. View the Bethany Village website.
Want to talk with one of our sales counselors about Bethany Village and the new Crescent Crossing Assisted Living facility? Call 937-433-2110 or simply send us a quick note here.